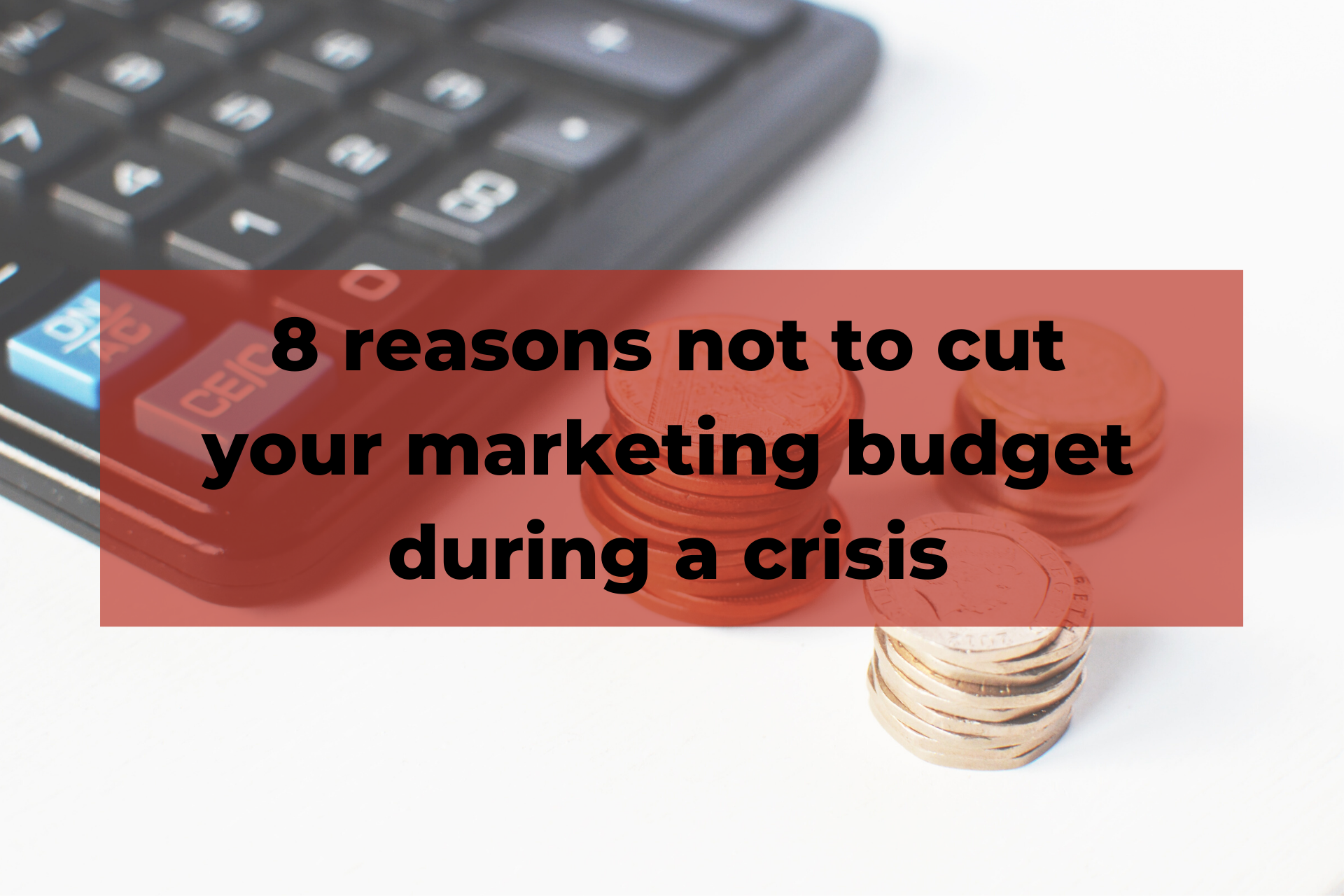 Recently we published a blog post on the minimum marketing businesses need to do in order to get leads and sales through the door. We wrote this blog at a time where businesses are facing an uncertain future.
The coronavirus pandemic has left many business owners evaluating their cash flow and their budgets, and understandably so. When facing a rough financial period, you naturally want to make cuts and examine what costs are necessary and which can be eliminated.
One of these cuts you'll likely consider is marketing. For various reasons, this is often the first cut businesses make when times are tough, rightly or wrongly. Should you be doing this? We would like to argue not.
Don't worry, we completely understand the "catch-22" situation businesses face when it comes to their marketing spend. You want to tell the world about your products or services, but cash flow is poor and you need to prioritise your spending and increase sales. But at the same time, the best way to get sales is to spend on marketing!
Marketing is fundamentally important to any business, especially when times are tough. And so, in this blog post, we're going to look at why marketing is important, as well as the many reasons not to cut your marketing budget.
Overview: Reasons not to cut your marketing budget
The reasons why marketing is crucial to any business
It's easy to look at your marketing and wonder what payoff it's generating. You might be getting more subscribers to your list, or higher engagement rates on social media, or even increased website views, but the subsequent revenue generated from this might not come overnight.
As such, it's easy to think your marketing isn't important. But in reality, your marketing is the first touchpoint between your prospective buyers and customers, and your products or services. For the large majority of your audience, your marketing will be the first thing they see.
Think about the zero moment of truth. 70% of the buying decision is made before a customer first gets in touch, so if you don't exist and you're not marketing, how is your audience possibly going to find you.
That's just the beginning, because here are the four main reasons why your marketing is crucial:
#1: It creates trust with your audience
Because we're in the age of digital consumerism, trust has become crucial to customers, and the need to trust a brand.
By committing to marketing, and regular content based on customer pain-points and questions, you begin to position yourself as an authority-figure that is trusted by your audience.
#2: Trust creates customer buy-in
Once you've built that trust, and continue to build it, your audience is bought into your business, meaning they'll naturally learn more about your products and services, and be well on their way to making that all-important (and well-informed) buying decision.
#3: Customer buy-in leads to sales
That buying decision results in sales, and revenue generated as a direct result of marketing. Your audience has bought in and gone over the finish line.
#4: Sales creates brand loyalty
Lastly, once a customer has bought from you, and they continue to trust you, they eventually become a loyal advocate of your brand, which in turn restarts the process, with customers rebuying from you and referring your brand to create more sales.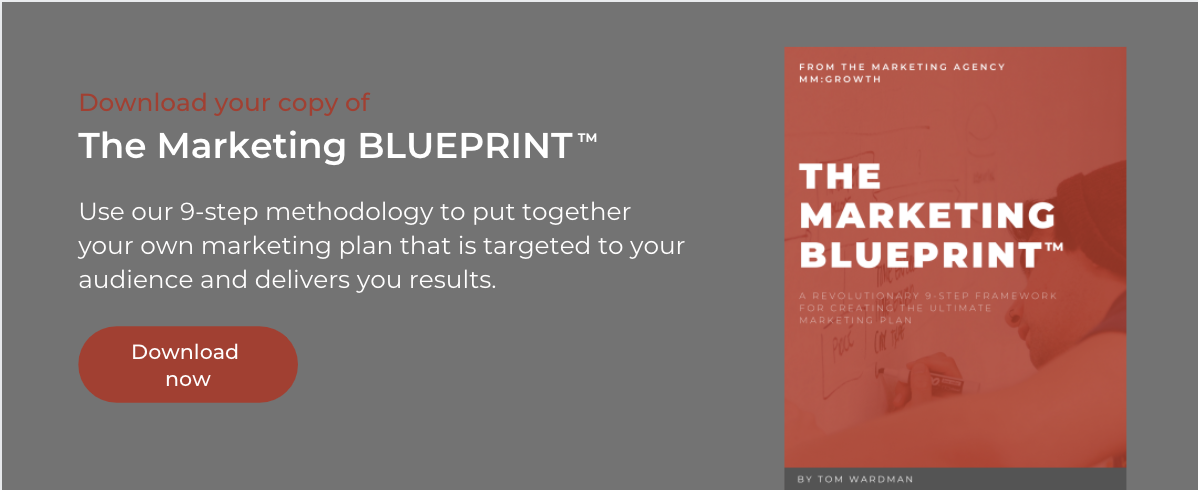 What the statistics tell you about reducing your marketing budget
It's easy for me to say "don't cut your marketing budget" and list the many reasons that support the argument, but what about the facts?
The fact is that many businesses throughout history, when faced with a financial downturn, have opted to continue, or even increase their marketing spend.
And when they've done that, they've come out the other side victorious, and in some cases, overtaken their competitors who instead chose to make the budget cuts.
In fact, what the research and statistics show is that companies who don't reduce their marketing spend experience more growth and increased sales after the economic crisis, and even increase their market share when compared to their competitors. To give some examples:
During the 1985 recession, businesses that either maintained or increased their marketing spend experienced a 250% increase in sales compared to those who cut their budget. (Source: McGraw-Hill)
Businesses that increased their marketing spend by 20% to 100% saw an average increase of 0.9% of the market share, compared to 0.2% of the market share for businesses who made cuts to their budget. (Source: WPP Group's Centre for Research)
This shows that the businesses who power through with their marketing can emerge victorious, because their brand names stay top of mind for their consumers and ultimately allow you to stay ahead of the competition.
The four dangers of not doing marketing
There are numerous reasons, as we've already discussed, as to why marketing is important. By the same taken, there are several dangers of not doing marketing, which are:
#5: Your customers will lose trust in your brand
As we've already established, trust is the most important factor when customers are preparing to make a buying decision. If they don't trust your brand, your credibility is damaged and you miss out on opportunities to nurture buyer relationships.
#6: People will forget about your products or services
By the same token, if you're not marketing your products or services, your audience will not even know about your products, let alone your brand, meaning your sales will inevitably drop.
#7: The customer experience will suffer
Marketing doesn't just apply to prospective customers. It applies to the whole buying cycle, from lead to sale and beyond, meaning the customer experience will suffer as a result of not committing to marketing.
#8: Ultimately, your audience will go elsewhere
As we alluded to earlier in point #5, your audience will ultimately go elsewhere, which gives your competitors the chance to increase their market share and capture leads that might otherwise have signed up with your business.
The lesson? Don't cut your marketing budget
We hope these 8 reasons not to cut your marketing budget have helped provide some insight. Whilst the prospect of cutting your marketing budget might seem like a quick fix when times are tough, it's a decision that can have disastrous consequences to your business in the long run.
We've recommended the book They Ask, You Answer before and it's certainly one to read when times are tough. Marcus' story of taking a business from the brink of bankruptcy during the financial crisis will certainly resonate with a lot of business owners at these times of crises. You can buy your copy on Amazon here.
Otherwise, if you're committed to marketing, and want support to help your business power through, then get in touch to see how we can help.