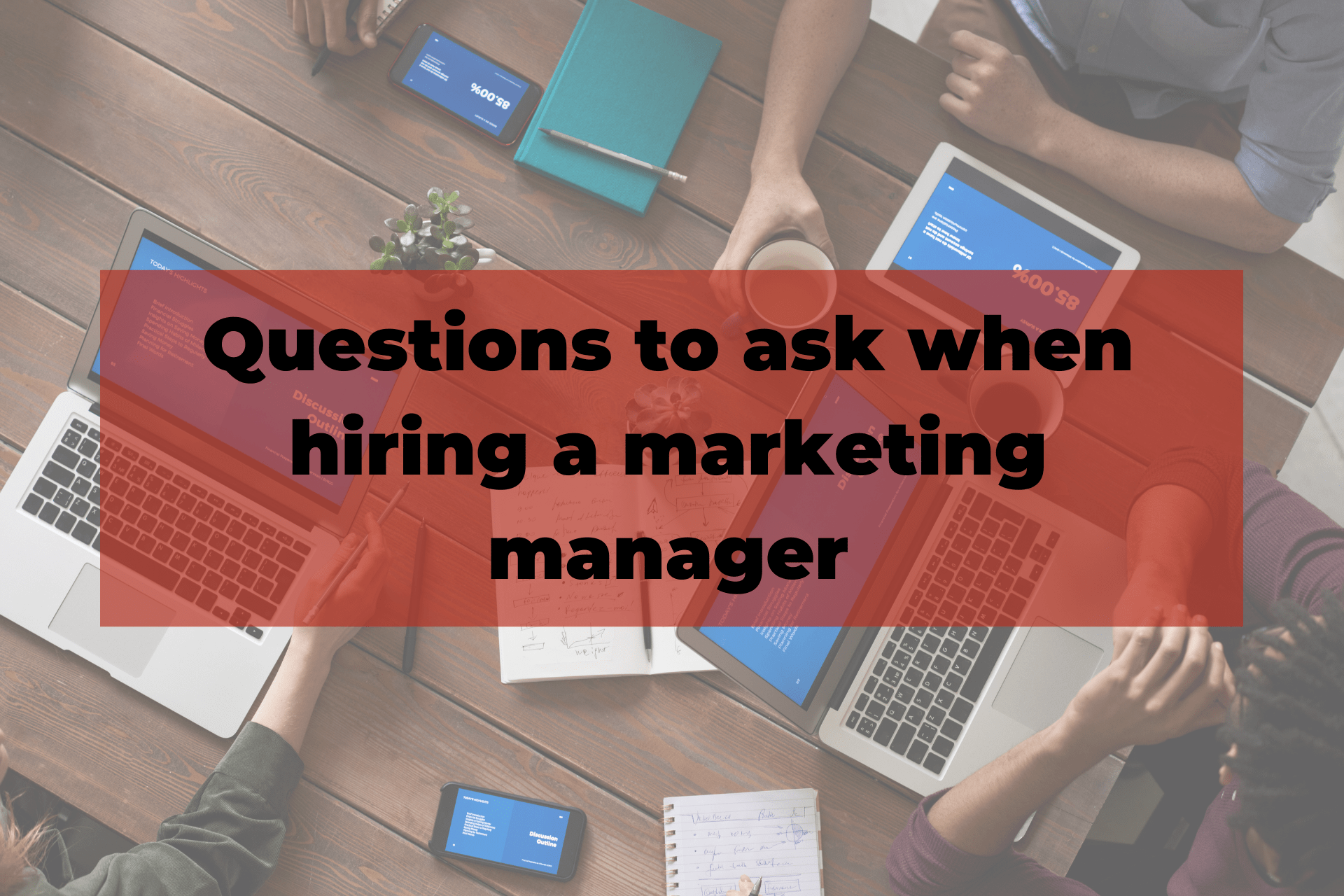 Once you have made the important decision to hire a marketing manager it is critically important that you take your time to ask a number of different questions, in order to establish that the correct decision is being made, and that the relationship will be fruitful.
It is also important to establish a clear set of parameters in order that the relationship flourishes.
In this article we will explore some of the critical questions to ask, whether you choose to go in-house or agency.
1. What will you do to develop the marketing plan of our company?
It is important that your marketing team/manager have a very structured framework that shows that they understand how to create a laser-focussed marketing strategy, which will be visible throughout the year - rather than a more piecemeal approach.
This question should not create fear for the person answering the question and if it does, it is worth questioning if they are the right match for you.
Marketers whose practice is grounded in a more strategic system will focus on understanding your target market, your positioning in reference to competitors and meeting your business goals.
2. How are we going to measure success?

The team that you are engaging with should be very keen to know what success looks like in your business, so it really should be them asking lots of questions!
Understanding what this unique success looks like is critical as you need to demonstrate the return on investment (ROI). Clear objectives and goals should be set for every campaign and you should be clear on how you're going to measure success, but also what stretch goals you have.
Let's say for example you want coverage, all coverage is not equal, so be clear on whether you want opinion pieces, editorial or just simply, company mentions, and in which publications.
3. What marketing methods would you consider using for our company?
Of course there are a lot of good answers to this question, but the best is: 'it depends on the strategy' (especially the target market).
In general, however, you want to see that your candidate understands who you are as a business, and the kinds of marketing methods or tactics that will connect the company with your target customers.
For example, if your audience is a traditional, low-tech group, suggesting social media as the primary means of raising awareness is a bad idea. Conversely, if you deal with young, connected decision makers, talking about ads in print newspapers is a non-starter.
It's all about knowing how to connect in a meaningful way with prospects.
4. What previous results have you achieved?
Good B2B marketing delivers awareness, credible leads and profits. So the right answer here is all about quantifiable results.
It's not really about making brochures and organizing events; a good candidate will talk about those things, but then they'll continue on to the numbers and about the pipeline growth the business achieved.
5. Who is going to manage our account?
Often when you meet large PR agencies, they'll wheel out their most impressive Account Directors, and perhaps even their CEO, depending on the size of your account. You'll receive a fancy pitch and feel like a million dollars.
But then… when you actually start working together, those people are nowhere to be seen, you get a junior managing the day to day business, and every call with your Account Director costs £££.
You may then regret your decision. So, always ask these types of questions to understand who will be managing your account, and make sure you meet them all before you decide.
6. How often will I hear from you?
This may sound like a daft question. It's not. You need to understand how the agency manages client communication and collaboration. The reason is, you want 90% of your budget being spent on real work - not project management or administration.
Not only that, as editorial placements can take months, you want to know what exactly your agency is working on. It's normal to hear from your agency at least once a week, with a monthly report on placements secured and plans for the following month.
Do expect to hear from your agency when they've secured a new opportunity, or they've developed an innovative idea to move your brand forward. As an absolute minimum, you need to ensure that you're still on track for success - as defined in the aforementioned marketing plan.
Getting marketing support for your business shouldn't be risky
So, there are a number of questions that you should ask when taking on a marketing agency. Here at MM:Growth we are always thrilled to chat through any of these questions in order to prepare you fully for the big decision - whichever path you go down.