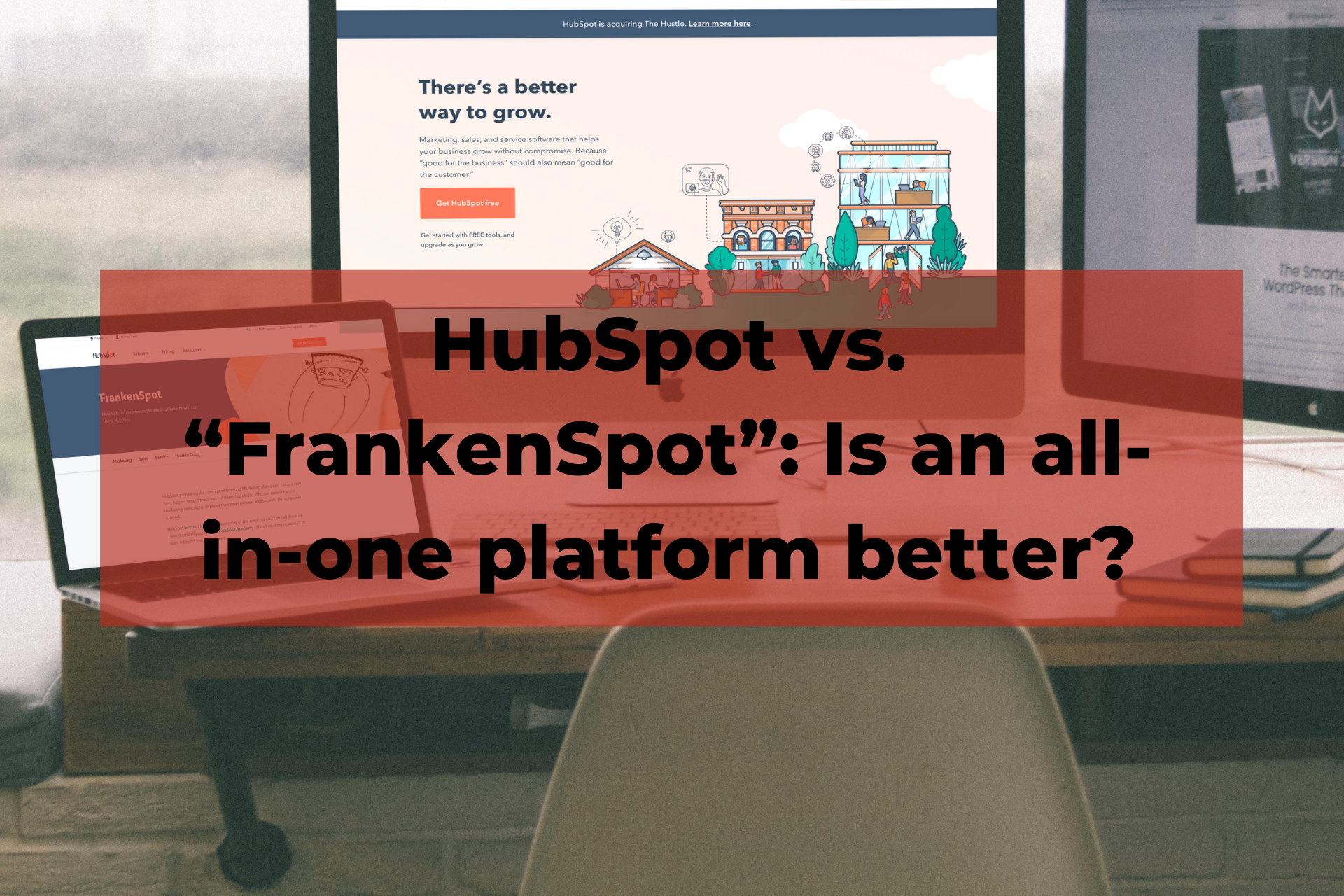 HubSpot is an inbound marketing powerhouse. Lead management, marketing campaigns, automated workflows, reporting features, live chat and more - HubSpot is a platform offering a multitude of tools to enable your marketing strategy, sales and service efforts.
In this blog we aim to explore the ways in which an "All-in-One" platform can outperform a "Frankenstein" selection of assorted softwares to power, support and importantly to grow a business.
In order to consider this, we are going to look at a variety of factors that a company should think about carefully when looking at its software stack. We'll also look at how HubSpot, as an all-in-one platform might solve some issues associated with a self-built tech stack.
PUBLIC SERVICE ANNOUNCEMENT: As a HubSpot Partner Agency, we naturally gravitate towards using HubSpot. We know from firsthand experience how powerful it can be, and the benefits it brings. However, we recognise that HubSpot isn't for everyone, and this blog will help you make that decision for yourself. That being said, we wanted to be completely transparent about where our own allegiances and experience lies. Happy reading!
Overview (click to jump to a section)
What is HubSpot?
In their own words:
HubSpot is a complete CRM platform with all the tools you need to grow better — whether you want to increase leads, accelerate sales, streamline customer service, or build a powerful website.
HubSpot offers numerous tools under one roof, and their platform begins with a free CRM and includes a Marketing, Sales, Service and CMS Hub. Features include everything from email templates to social media scheduling, form building to ticketing customer support and everything in between. There's also a mobile app to take your marketing on-the-go!
We recommend diving into HubSpot's website to check out their pricing plans. We've also written a few blogs on HubSpot, which you can read below:
What is "FrankenSpot"?
"FrankenSpot" (a portmanteau of "Frankenstein" and "HubSpot") is a colloquial term used by HubSpot to describe "how to build an inbound marketing platform without using HubSpot".
In a typical business, especially one that has undergone significant growth, or one that has a history longer than 10 years, it is normal that multiple different softwares will have been added over time to answer certain business problems.
These will, in all likelihood, have been added one at a time, they may have been brought in by different members of staff (who might now have left) and they may have been championed by certain departments or individuals, and not managed to gain buy-in from all at the business.
When this happens, you are left with what we will call for the purposes of this article a "Frankenstein" stack of solutions. A typical tech stack might look like this:
Unbounce (for landing pages)
WordPress (for your website and blog)
SEMrush (for SEO/PPC information)
Mailchimp (for email marketing)
Buffer (for social media)
Pipedrive (for your CRM)
Calendly (for meeting scheduling)
And much more!
5 problems with a "FrankenSpot" tech stack for your marketing efforts
Whilst a tech stack may have served you well, it has one significant drawback: Time. And, as we'll now discuss, your tech stack can cause you more problems and issues in the long run:
1. Multiple logins, passwords, payments and more
First, what do I mean by this? To begin with, just very simple things such as password access.
If you have multiple, CRM, Email marketing, social media, social media scheduling, sales automation, and landing page software… then you have multiple passwords. You might have different members of staff having sole login access. What happens when a certain key person is off sick, leaves without a proper handover or locks themselves out of an account?
Think of all those different monthly payments leaving your account in a blizzard of separate transactions. Think of all the different vendors holding your bank details and need them updating all the time.
How does HubSpot solve this issue?
With HubSpot, your existing marketing tech stack will be by and large combined into one portal, meaning you have one login and user friendly place-of-truth to run your marketing efforts.
In this case an all-in-one platform also means a single account and a single invoice. Beneath that, your individual colleagues will have their own access. A much easier scenario with far fewer moving parts and no single point of failure. A no-brainer surely!
Further reading: Find out more about HubSpot's all-in-one growth suite.
2. Managing the admin of moving from one system to another
Marketers have no shortage of tasks to complete or stay on top of on any given day.
From my own experience, I never found it fun, to have to log in to Google Ads to check and modify my campaigns, then to log out and log in to my Facebook, Instagram and LinkedIn accounts to check their performance.
Then I would log into something like Buffer to schedule my posts for the week. Then I'd log into Canva to do a bit of landing page design and the list goes on…
That's a lot of logging in and out, a lot of different interfaces and dashboards to move between, and also gave a sense of really working on each task in (not so) splendid isolation from the others. This created a feeling that all of my efforts were quite disjointed and siloed rather than being a cohesive part of my Businesses' grand marketing plan.
How does HubSpot solve this issue?
As we've already established, HubSpot's Marketing Hub brings the convenience of all these features into one portal. That means you can easily check your ads campaign, schedule social media posts, and more under one roof.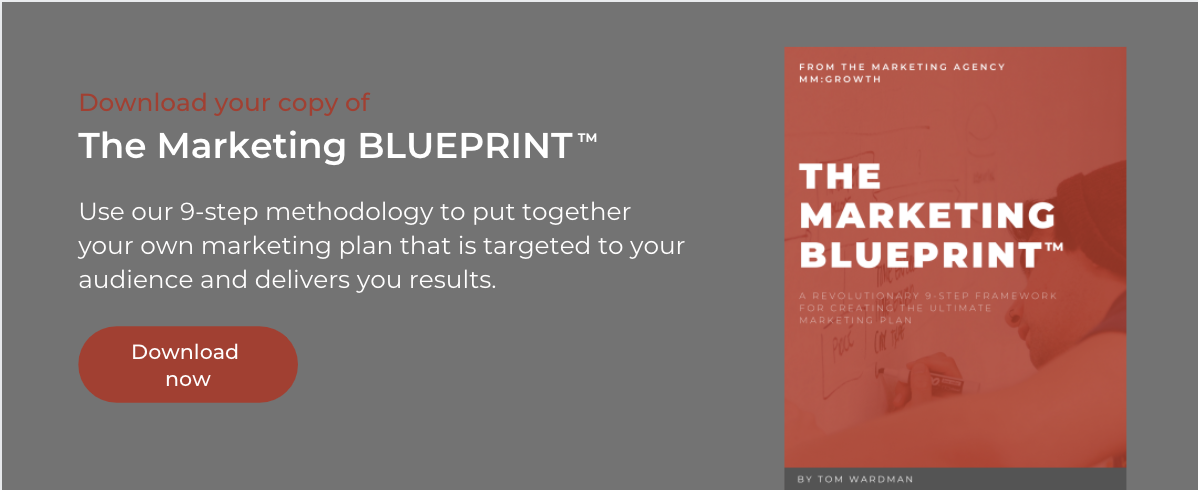 3. Presenting multiple dashboards to clients or internal management
All good software solutions provide home-screens or dashboards to give the user an "at a glance" view of performance and activity.
Everyone who has ever prepared a report to a client or to internal management, will relate to the difficulty of preparing a single document containing information. From ad campaigns, blog performance, to landing page conversion rates to social media reports…… It's tricky, and often one ends up having to create some sort of heavily edited PDF with each individual report shoe-horned in.
Then, when presenting said document to your client or manager and questions come your way – you are looking at a static page. It's not possible to adjust the parameters of the results you are looking at. You can't simply look at a different time period, or drill-down live into where exactly the visitors to your blog are coming from. It's a very limited way of doing things.
The alternative is to have a huge number of tabs open on your screen with the dashboards of each individual software open and then try to navigate between them in a professional and structured way to best present to and answer the queries of your audience. It's more or less impossible- and I've tried.
How does HubSpot solve this issue?
One of HubSpot's shining management features is the pre-built dashboards.
Whether you want a report on lead scores, contact management, sales pipeline, or something else entirely, HubSpot has a plethora of ready-to-use reports that you can plug-in, or you can build your own from scratch.
Further reading: Find out more about HubSpot's reporting functionality.
4. Reporting on your marketing efforts
All this talk of dashboards and the presentation of data brings us neatly on to reporting. Reporting is such a vital part of marketing. As we've already established, it is completely tedious to have to pull reports from a variety of different sources and to try to make sense of them in one cohesive presentation, document or report.
As we've already established, HubSpot gives you a platform where all of your email, newsletter, social media and website analytics are in one place. Not only that – but the data is live!
That means when your boss or client says "can we see this report for the same month last year?" you can simply make the adjustment in real time and show the information there in your meeting.
This means you can really demonstrate the power and success of your campaigns to your customer, or justify to your boss that the recent increase in marketing budget has brought a return on investment.
5. Demonstrating return-on-investment
Nothing drives business owners or managers mad than spending large budgets and having no clear idea on whether they are making a return on investment or not.
I have been in countless meetings where there has been a huge focus on "website traffic", "page views", "likes", "follows" and countless other metrics. But all I really want to know is "how much have we spent and how much in sales can be directly attributed to that outlay?"
It stuns me how often people have no idea, and nothing in place to track this. Nothing is more infuriating than having 100 confirmed contact form submissions, but no idea how many converted to sales and the value of those sales.
Often in businesses there is a disconnect. Contact form submissions end up in someone's inbox, and that person answers them (sometimes quickly, sometimes slowly) and then may or may not record what happens and may or may not follow up if they do not hear anything in reply.
Essentially a hard won lead, that has been paid for, and snared after lots of handwork and endless optimising of a campaign may simply wither away because they were only contacted once or not at all after they completed our initial call to action. I have seen this time and time again! No lead attribution whatsoever.
Even when things go well and a lead is followed up and taken through to a sale, there is no attribution. By that I mean there is no way of linking that sale to a particular campaign or even a particular element of a particular campaign.
How does HubSpot solve this issue?
Because HubSpot comprises a CRM system as well as a whole suite of software services, the whole customer journey can be tracked. Everything from prospect, to lead, to MQL, to customer and beyond is there in HubSpot.
Unsure about HubSpot? Imagine the following scenario
Someone, somewhere online, sees an ad for your business on social media. They click the link, like what they see and complete a call to action for more information in return for their details.
At this point they are registered in your CRM. They enjoy the download and decide to take a look at your website the following day, browsing a couple of your blog posts as they do so, and visiting your pricing page.
All of this is tracked in your CRM, to a granular level of which article they read, which links they clicked and time on site.
Finally they engage with a call-to-action on your site and book a call. In doing so a task arrives for one of your sales colleagues in their CRM and they have all of the customer information.
This information includes which ad brought them to the site, which blogs they read and which pages they visited. This gives a huge amount of help and insight to your sales colleague to help them make the sale.
On completion of the sale, your sales colleague records it in the CRM and voila, you have the full customer journey logged, and can link with absolute certainty the campaign that won you the customer, hence closing the reporting circle, and proving ROI.
What's next for your marketing?
We hope that this blog post has helped you understand the drawbacks of a "Frankenstein" tech stack when it comes to your marketing efforts.
If your tech stack is missing elements, we recommend checking out HubSpot's page on "How to Build An Inbound Marketing Platform Without Using HubSpot".
Alternatively, if you think your business is ready for HubSpot, get in touch with us to discuss your requirements for implementation.