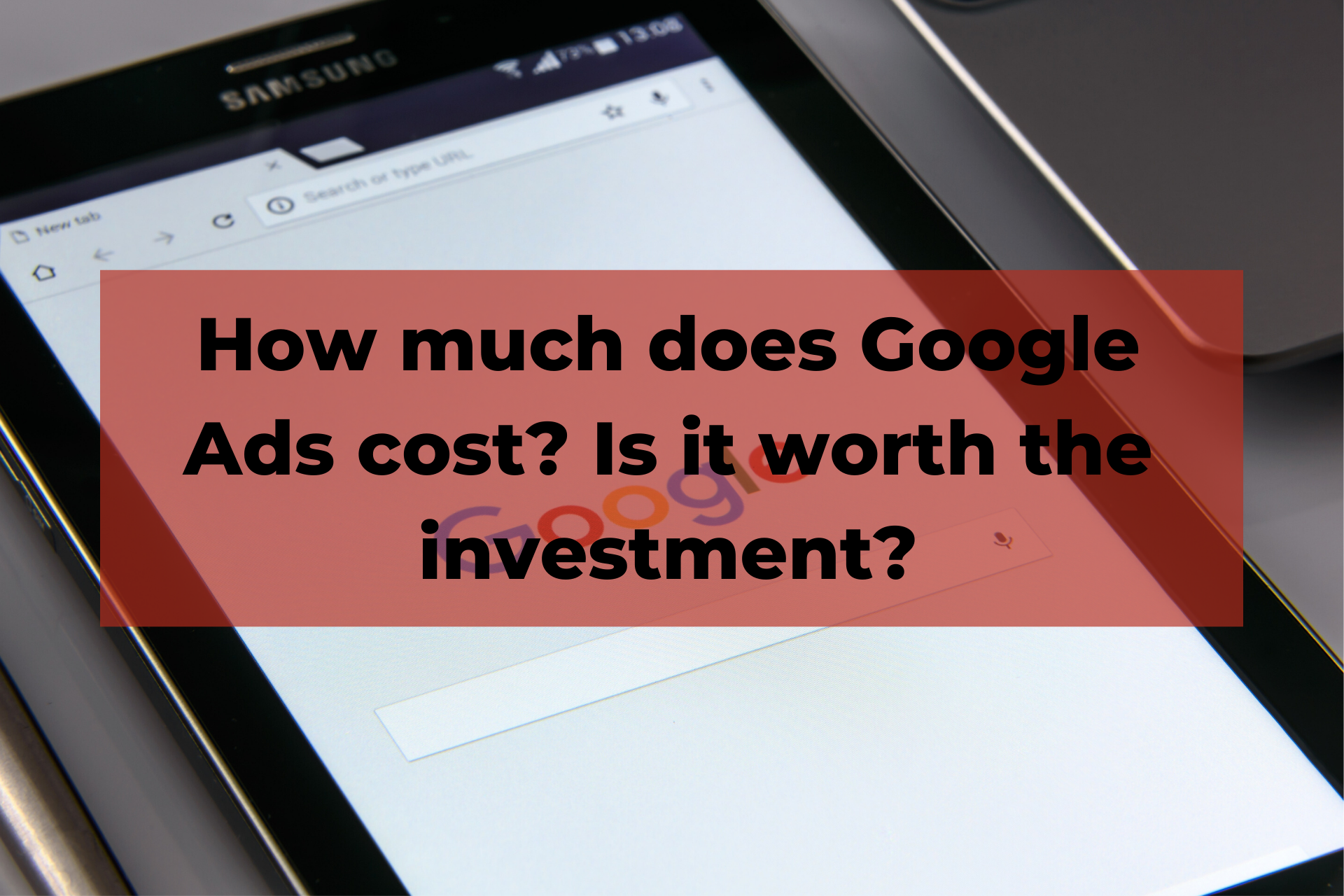 Did you know that over 50% of businesses invest in pay-per-click marketing as part of their marketing strategy? That number is even on the rise, and it's easy to understand why.
PPC advertising has become a lucrative form of digital marketing for small businesses. That's largely down to Google being the search engine of choice and accounting for over 246 million unique visitors. In doing so, the ability to advertise on Google has allowed many businesses to see a direct return-on-investment from the Google Ads campaigns.
Google Ads are undeniably powerful, making it a no-brainer when deciding where to prioritise your marketing efforts. But the difficulty comes in answering the question: "How much does Google Ads cost?"
A fantastic question nonetheless, but one that doesn't have a straightforward answer. The reality is that there are a number of factors that influence the cost, including ad spend, average cost-per-click, and much more.
So, in this blog post, we're going to delve into all those factors, including reasons to consider Google Ads, and how to create your Google Ads budget.
How much does Google Ads cost: Overview
What is Google Ads?
Google Ads (formally Google Adwords) is a pay-per-click advertising platform, meaning you only pay for a click on your ad or per impression.
The advertising platform lets you create ads by bidding on specific keywords, which are often based on search terms your audience are using when typing into Google (known as a search query.)
We love Google Ads because, unlike social media (as an example), you can drive qualified traffic to your site quickly, as chances are the people who click on your ads are those that are already searching for your products. You'll only appear when it makes sense to do so.
How does Google Ads work?
As previously mentioned, Google Ads is auction-based, which determines both ad placement and cost. When a user searches for something on Google, an ad auction is created for those keywords that advertisers are bidding on.
Ad placement and cost-per-click are based on what Google calls your "ad rank". This takes into account the maximum bid for your chosen keywords as well as other factors such as the relevancy of your landing page, cost-per-click (CPC) and more.
For instance, if multiple companies are bidding for a certain keyword, the cost-per-click will likely be higher and more competitive, which is where a businesses budget can get quickly swallowed up.
3 reasons to choose Google Ads
Budget control
One of the biggest selling factors of Google Ads is that there is no minimum spend required to run a campaign. In fact, you could run a campaign at £1 per day if you really wanted to!
Your results depend entirely on cost-per-click and how competitive your keywords are, but the thing to remember is that you only pay for clicks on your ads. So, you might find that you don't exhaust your budget each day if people haven't been clicking, which gives you some flexibility to scale up. That leads nicely onto our next point...
Scalability
Another great feature is that your ads run in real-time, and you see the results in real-time. That means you can quickly identify which campaigns are performing well, giving you the opportunity to scale up (or down) as needed.
That means that there isn't any limit to the success of your Google Ads. So long as you have the budget, you can expect great results!
Provable return-on-investment
This is by far our favourite feature. Google Ads are great for proving direct return-on-investment. By this we mean, if you've got conversion tracking setup, you can directly track the revenue generated from your ads.
That means you can easily say "I spent X and got Y in return" and track specifically the number of clients or leads that have been generated from your ad campaigns. This is a great feature for in-house marketers to demonstrate return-on-investment to the board of directors, or other key decision makers.
How to create a Google Ads budget
When putting together a Google Ads budget, there are numerous factors that you should consider. Businesses tend to spend tens of thousands of pounds a year directly to Google, but there's other elements worth considering, such as:
Cost-Per-Click
This is generally between £0.50 and £3 per click, a maximum cpc can range towards £6. This can vary between Google Display Network and Search Network.
Ad Management Fee
If you're outsourcing your Google Ads to a marketing agency, you can expect to pay between £500 and £5000 per month, or a percentage of your ad spend per month.
PPC Management Tools
If you decide to invest in tools to help you with your Google Ads, you could find yourself spending anywhere from £20 to £500 per month on softwares such as SEMrush or Opteo.
Budget to Google
In terms of your budget paid directly to Google, this largely depends on how quickly you want to see results and/or how competitive you are. In our experience, we've found a minimum budget of £500 to Google works well.
That being said, for best results, we recommend budgeting anywhere between £1,000 and £5,000 a month.
How much does Google Ads cost? It depends!
Our goal with this blog post was to help demonstrate that there isn't an easy answer to "How much does Google Ads" cost because of the number of elements that influence your spend.
In short, how much you spend is entirely up to you, but in any case, we're confident that Google Ads is a fantastic investment with the potential to generate amazing results for businesses of any type.
If you need some help with your ads campaigns, our PPC management service might be the solution you need. You can find out more about that here, or if you're ready to get started, get in touch and we'll start a conversation about your campaign goals!