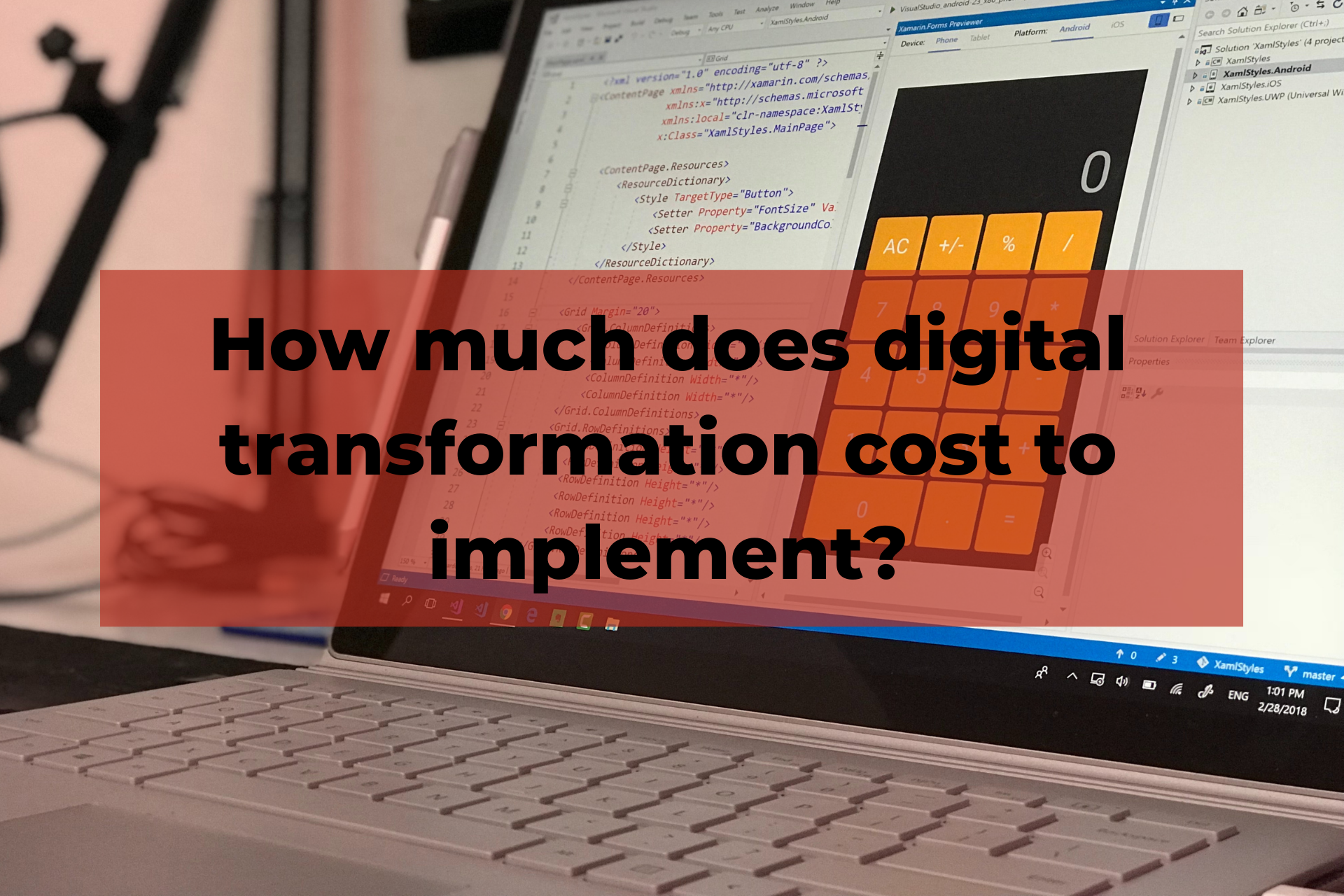 A digital transformation project can be wide and varied. For some, it might take the form of taking paper copies and records into an online system. For others, it might be implementing digital ways to interact with both internal and external parties.
Regardless, any digital transformation project is likely to be a huge project, with many factors involved, not least of which is the cost.
At MM:Growth, we've designed and launched numerous projects encompassing digital transformation, and in this blog post, we answer the question of "how much does digital transformation cost?", including a look at:
What is digital transformation?
Digital transformation is an opportunity to integrate and use emerging digital technology in a business that results in changes in how businesses operate and deliver value to customers.
This could be to enable the delivery of a product or service at a greatly reduced cost with increases in efficiency e.g. software updates directly to cars. It could also bring about an increase in the number of customers or clients through really enabling the customer acquisition process (e.g. automation aspects of the customer acquisition process itself.
A simple example of a basic digital transformation would be implementing a CRM tool in a business. When properly used, it can bring about process, strategy, organisational transformation, as it will give you the tools to enhance the customer experience whilst reducing cost.


What are the benefits of a digital transformation project?
There are huge benefits to be delivered by digital transformation. This includes cost savings or greater value from the spend through the use of digital tools.
Business processes should be greatly enhanced in effectiveness and efficiency. In doing so, transformation costs should be recovered efficiently through the use of good technology. Open source software here can provide great value. It also gives an opportunity to utilise the benefits and cost effectiveness of emerging technology.
Another benefit is reduced capital spend, especially when tangible products are converted to digital. Financial performance will improve through digital transformation. The minimum should be 30% growth through implementation.


How much could digital transformation cost to implement in my business? [Examples included]
The short answer is "it depends", as any digital transformation project requires great consideration of what you are trying to achieve.
Ultimately, the cost of a digital transformation project will depend on the goal, the scale of the project, the degree of transformation required to implement, the technology deployed and the skills of the team engaged in the task.
When working with MM:Growth, the total cost of a typical project can range from less than £4,000 to over £100,000. Examples of digital transformation projects and costs are below.
Defining Strategy enabled with digital transformation tools - Workshop sessions from £7,500.
Process mapping and development sessions - From £5,500.
eLearning platform development - From £7,000.
Questionnaire development and implementation in a multi-language format with natural language processing of free text - From £4,000.
Management software, such as CRM platforms - From £2,000.
Some digital transformations are huge. For example, think about the current expenditure on COVID and Brexit transformations, such as "Test, Track and Trace". Some of these projects will cost in the billions.
Scoping out your digital transformation project with your chosen agency is an important step, and your agency will work with you to share information, determine your project wishlist, goals and more in order to agree the cost.


8 points to consider before embarking on a digital transformation project
A well defined digital transformation project should deliver a minimum of 30% improvement by any measure and of course ideally will deliver in 100%+ and even 1000%+.
Process is key in digital transformation. Mapping the current process and defining the new process are key elements. Digital transformation needs good leadership, as a project involves change and change needs to be led.
Here are more key points in considering cost and benefits of digital transformation:
Digital transformation is not an isolated activity or process. It requires a leadership plan
Defining the digital transformation plan is crucial and questioning is a key element and skill in this. Asking questions of all involved.
The scale of the digital transformation will vary depending on the agility of the organisation and willingness and readiness for change.
Invite engagement with the transformation; get input and involvement.
Really disruptive transformation will require new or radically changed business models to be successful.
Focus on improving the core of your business or organisation.
Connect widely with people, technical echo systems and integrate processes with standards.
Collaborate as much as restrictions allow (confidentiality, security and so on).


Talk to us about your digital transformation strategy
We hope this blog post has helped you understand the factors that go into the cost of a digital transformation project. If you're looking to start your own project, talk to us about the project requirements and goals.
Or take a look at our recent case studies, including LMS platforms and app development.